This blog post is written by Michelle Willmers, Project Manager at OpenUCT Initiative, and is cross-posted from the OpenUCT Initiative blog.
The OpenUCT Initiative has in recent months been fortunate to participate in a number of workshops and events around open access, open science and open data in the African and developing country context.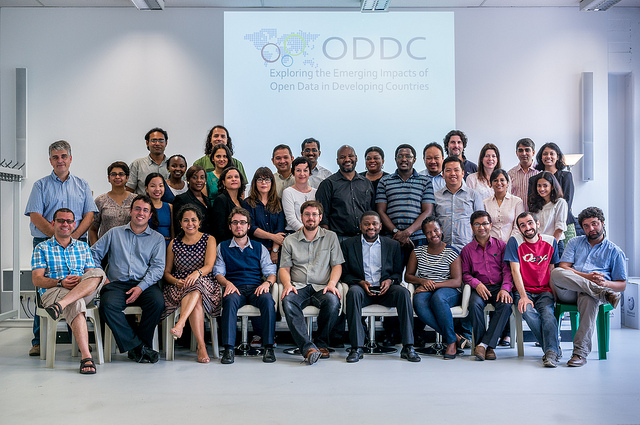 Group Photo – Open Data in Developing Countries Research Network Workshop, Berlin, July 14th/15th 2014 (flickr)
Most recently, myself and Francois van Schalkwyk participated in the IDRC/World Wide Web Foundation's Open Data in Developing Countries (ODDC) network meeting which took place in Berlin to coincide with the Open Knowledge Festival, a bi-annual global event organized by the Open Knowledge Foundation.
The slogan of this year's OKFest was 'Open Minds to Open Action'. It was inspiring to be a part of what felt like a quite historic event and there was a tangible sense of excitement around what might be possible if this extremely talented and passionate community of activists, researchers and open advocates could harness their collective energies to promote openness and improved access to information.
Against this backdrop, network members from the African ODDC projects got together in Berlin to discuss what we could be doing to promote the open agenda and consolidate the open network in Africa – particularly in the emerging areas of open science and open data. It was acknowledged that while there have been a number of funder-driven initiatives, workshops and projects across Africa, it was incumbent upon us to move to action in joining the dots between these initiatives and doing more to consolidate the Africa network.
In short, discussion amongst the African participants surfaced a general sense of frustration around:
(a) Lack of cohesion in African "open" projects and research initiatives — i.e. we can see increasing pockets of sophisticated activity but no real initiative/conversation to consolidate the agenda.
(b) Reliance on funders and partners from the North to stimulate the local conversation.
(c) The need to take the conversation around openness outside of the purely academic context in order to include NGOs/CBOs as well as private/corporate partners.
As a small first step to help address this issue, I volunteered to share a public list of Africa-based academics, university managers, advocates and practitioners that I have interacted with at "Open" events in recent months. The list is available here.
It is a modest start, but we are hoping that African colleagues will add their names to this live database, which will hopefully be of use in surfacing a local network and providing contacts for partners from other continents. Africa is an enormous continent and finding key people in niche areas can be one of the main challenges in penetrating and collaborating within this environment.
In addition to adding names to the directory, we are also encouraging anybody interested in the African conversation to tweet items of local interest using the #OpenAfrica and #scholarAfrica hashtags.
Should you be interested, preliminary insights from the Open Data in Developing Countries initiative can be accessed here.
A Storify from the special ODDC session at OKFest is available here.
(CC-BY-SA)