Collaboration is not easy. It takes great deal of effort and energy from everyone involved and simply put, collaboration is hard work.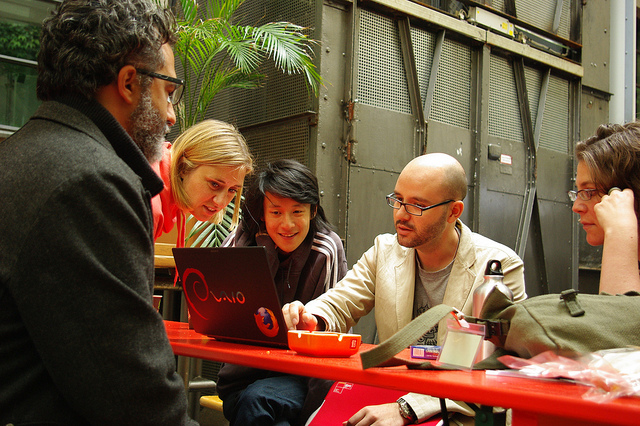 Collaboration is also an essential element to all of our work. The commitment, the sweat and the long nights we put into open source projects, community initiatives, campaigns, workshops and sessions alone is not enough, these activities all require collaboration to be successful and in the end, we are all here to come together and use our collective strength to change our societies for the better.
We understand that in order for the festival to effectively support collaboration, we must create an environment that meets certain necessary conditions to foster this type of engagement, an environment rich with mutual respect, good faith, personal responsibility and inclusivity.
For this reason, we crafted we crafted an OKFestival User Guide – everything you need to know about how you can contribute to making a truly welcoming and collaborative festival environment.
The OKFestival User Guide can be described as a code of collaboration.
It's not a code of conduct (although we deeply admire a number of codes of conduct and were in fact informed by them in creating our user guide) because we felt we wanted to talk about both conduct and collaboration Ultimately, we concluded that the specific term and format wouldn't have fit our purpose and we didn't want confuse readers about our objectives. It's called User Guide because we wanted to communicate our intent to guide, to accompany the participants in that terrifically rewarding journey which is collaborating, sharing knowledge, learning from each other and growing together.
We're happy and proud to introduce you to our User Guide and invite you to both read it and share your feedback by writing us at info@okfestival.org.
Months of reading and talking brought us to present this to you today and we would like to take this opportunity to express our gratitude to the collaborators, teachers and guides, Allied Media, Ashe Dryden, Hacker School, who shared their learnings with the world and to the Ubuntu and Debian communities, who inspired the format of our writing.
The Open Knowledge Festival User Guide is licensed under the Creative Commons Attribution-Share Alike 3.0 license. You may re-use it for your own project, and modify it as you wish, just please allow others to use your modifications and give credit to the Open Knowledge Festival.
We hope you'll like to let the User Guide guide your festival experience as much as we do. See you soon in the crowd!