This post by Meredith Holmgren, Principal Investigator & Project Manager – Intangible Cultural Heritage, originally appeared on the Smithsonian Center for Folklife and Cultural Heritage's Talk Story blog.
This year's Open Knowledge Festival (OKFest) brought together over one thousand participants to share their work in transparency and open access to government data. Taking place July 15 to 17 in Berlin, Germany, the festival included a wide range of panel topics, from development sector analytics and election monitoring tools to storytelling and cultural heritage policy. Opting for a dynamic framework of a festival, rather than that of a conventional conference, there were a wide range of participatory activities in addition to prepared panel presentations, including a robust "unconference" program, workshops, performances, skill sharing, and hack-a-thons.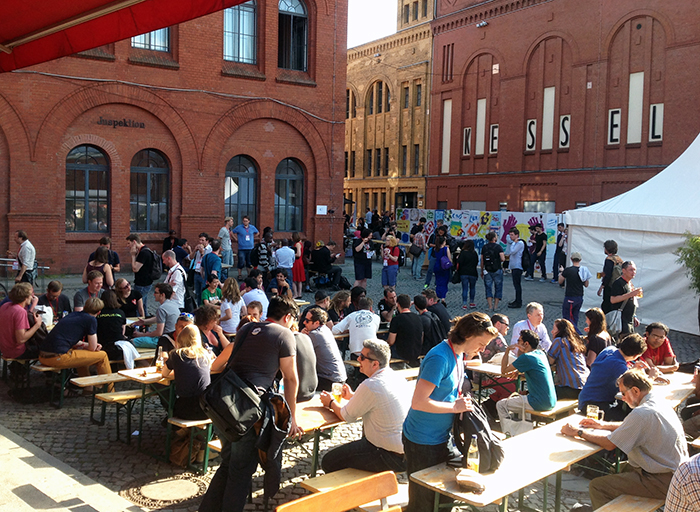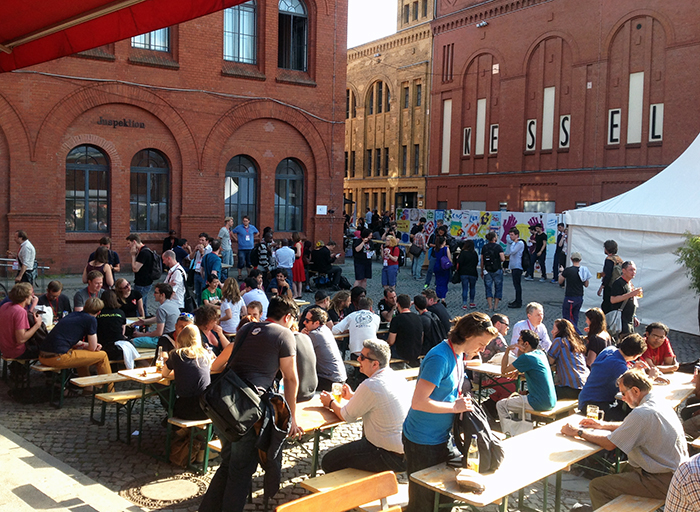 OKFest 2014 took place in the Kulturbrauerei—a converted brewery that now serves as a complex of arts and culture venues. Photo by Meredith Holmgren
One thematic thread that ran through the event was open cultural data, the principles of which foster free use and unrestricted public access to cultural assets stewarded by cultural heritage institutions, such as galleries, libraries, archives, and museums (a.k.a. GLAMs). With increasing demand for digital cultural assets across the world, open cultural heritage projects, such as those initiated by the Getty, the Walter's Art Museum, the Rijksmuseum, and Europeana, have gained significant traction in recent years and garnered quite a bit of attention from researchers and media outlets. With momentum building both within and outside of cultural institutions to make cultural assets more digitally accessible, and equally as much debate about the merits of declaring assets as public domain works, I looked forward to learning more about the open culture community and ongoing collaborations between cultural heritage institutions and open culture professionals from around the world.
Indeed, the open cultural heritage events at OKFest did not disappoint. The program started with a pre-festival workshop at the Wikimedia Deutschland offices, titled "Open Data in Cultural Heritage". Around fifty participants from across the world gathered to present their work and discuss ongoing activities. While much of the content focused on advances in the German cultural context (e.g. Wikimedia Deutschland, Deutsche Digitale Bibliothek, Museum für Naturkunde) presenters who hailed from Finland, the Netherlands, and Switzerland, in addition to Germany, shared their experiences with cultural heritage initiatives. Hearing their case studies—though exclusively from the European continent, where public support for this work is arguably the strongest—provided a unique comparative perspective toward current developments in the field, ongoing pilot projects, policy debates, and challenges encountered by a variety of open culture professionals…
Read more on the Smithsonian Center for Folklife and Cultural Heritage's Talk Story blog.