What is OKFestival?
The Open Knowledge Festival 2014 will be our biggest open data and open knowledge event to date. It will be global, inclusive and participatory. We expect it to create a significant local and international surge of innovation.
Organised by Open Knowledge and owned, in the broadest sense, by the open community, the Festival will bring together over 1,000 people from more than 60 countries to share their skills and experiences; encouraging them to work together to build the very tools and partnerships that will further the power of openness as a positive force for change. In addition, the festival will be a fantastic opportunity to celebrate all that the open movement has achieved so far, and an opportunity to plan and shape the landscape ahead.
Where is OKFestival 2014?
This year's OKFestival is taking place in Berlin at the Kulturbrauerei, a large architectural complex originally built and operated as a brewery, with multiple brick buildings and courtyards. OKFestival will occupy one entire courtyard and the surrounding buildings to create a "city-within-the-city", comprised of indoor and outdoor spaces. In our festival home, we'll have the flexibility to arrange the areas to suit the programme – whether for discussions, workshops, brainstorming or demos. We're looking forward to seeing the venue come alive!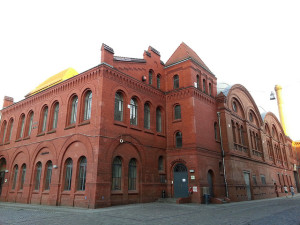 Why Berlin?
For OKFestival we wanted to pick a city that would be as accessible as possible to everyone who'd like to attend. Berlin offers reasonably priced accommodation, vibrant local open and tech communities and a welcoming, friendly atmosphere.
Our venue – the Kulturbrauerei – is situated in the Prenzlauer Berg district, which hosts a multitude of cultural spaces to explore. Even in the GDR era students, artists and creative folks influenced the image of the neighbourhood. Then, after the fall of the Berlin wall, it became very hip and trendy. Prenzlauer Berg is known for its varied nightlife and the large number of bars, cafés, clubs, coffeehouses and restaurants.